I have never seen any male celebrity who has changed his hair-style as much as Leehom. He's a musician..FGS, not a model, but look at his hair-style... always different from time to time ...
So, ladies.. if you're feeling bored with your partner's hair, well take a look at these.. and get inspired!
Short and Simple

- during his earliest career
Super Short a.k.a. Army Look
Long and Fluffy

(wonder who had it first, Leehom or F4. LOL)
R&B Look

- during his Chinked-Out Style
Cool and Trendy

- suits him the best (love this one)
The Weird Bangs

- Leehom had this during the shooting period of "Lust, Caution". I guess Ang Lee wanted the old-style look for the movie, but then Leehom's hair-stylist got it too creative and gave him bangs outside the movie set. LOL
These were what he looked like in "Lust, Caution"
The Shocking Beard

- Leehom used to lock himself up in the studio for weeks during the production of his album. When he got out, he surprised everyone ... oh, were you not??? Blah! *never fancy a guy with mustache - even it's Leehom*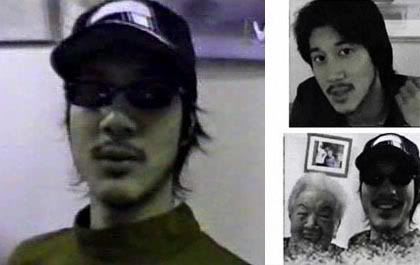 The Sticky Oily Hair

- I just dont get this one.. Has he just finished one tube of hair gel, or what? Was it even real?? LOL!!
The Curly Curly

- wooops.... thank God it's not Leehom! LOL